In this topic, I will break it down into easy to digest segments:
– About Adscendo
– Risk Management
– How Does it Work
– Tokenomics and Revenue
– Roadmap (Seed sale for you)
– Conclusion
About Adscendo
Adscendo_fi focuses on giving users yield and leveraged exposure to ETH staking.
Adscendo innovates the space of LSD perpetuals further with more efficient LSD designs.
aUSD – an overcollateralized stablecoin that generates leveraged yield through ETH staking
lstETH – a leveraged ETH derivative that provides leveraged exposure to stETH. No funding fees or forced liquidations.
In other words, its products cater to users of various risk profiles:
– conservative yield seekers
– speculative traders with a market view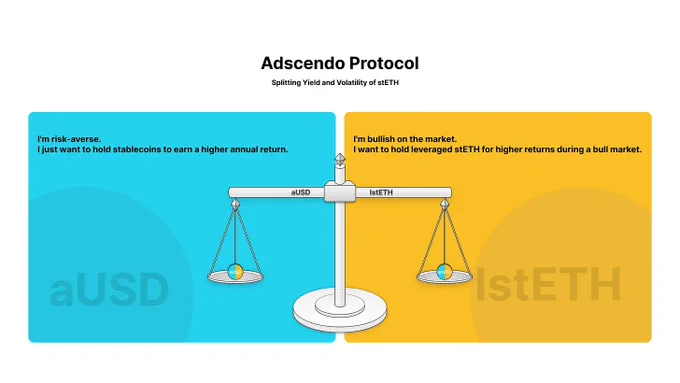 How Does it Work 
i.e. With $1800 of $stETH, it will be split into $1300 of $aUSD and $500 of $lstETH.
Assuming the ETH price is $1800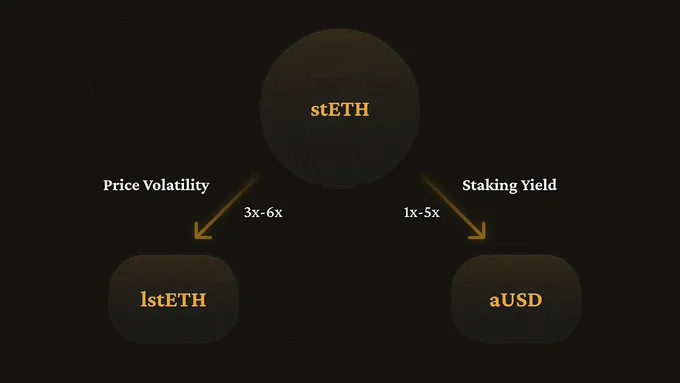 As $stETH price increases by $1200 from $1800 to $3000 and APR of $stETH at 4.5%
aUSD Stake APR=(3000*4.5%)/(1300*0.5)=20.8%, 4.62x
Where users hold $1300 of $aUSD, they get yields equivalent to holding 1 $stETH, depending on the price of ETH. Extremely great deal
$aUSD
– absorbs 0% of the price volatility of $stETH
gets 100% ETH staking yield
– APR Leverage Ratio = stETH Price / (1300 ∗ aUSD Stake Ratio)
– Price of stETH increases, the Yield Leverage Ratio will be higher, resulting in higher demand for aUSD.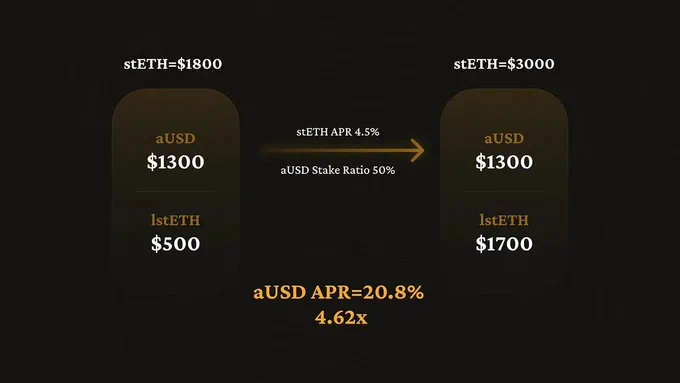 i.e. When $stETH price increases by $1600, $100 of $lstETH is now worth $1700 as it absorbs the price volatility.
lstETH APR = $1600 / $100 = 1600% with 14x leverage
For the price of $stETH to fully be absorbed $lsETH, a 3.6x leverage is taken on $500 into $1800 of $lsETH.
So $lstETH would
– absorb 100% of the price volatility of stETH
– gets 0% staking yield
– lstETH Leverage Ratio = stETH Price / lstETH Value
– Price of stETH decreases, the lstETH Leverage Ratio will be higher, resulting in higher demand for lstETH.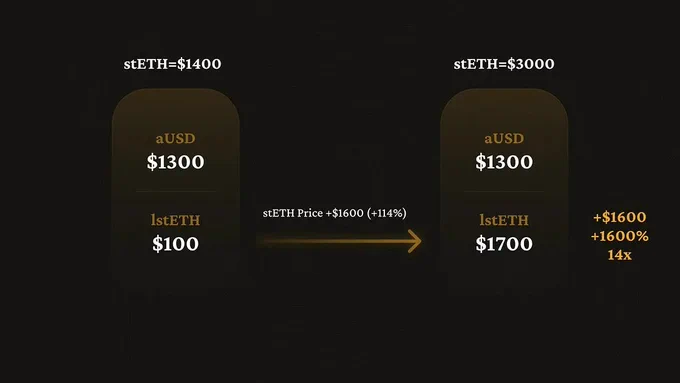 Risk Management 
Notice the 1300 in the formula and in the above example; liquidation can happen when the price of $ETH falls below $1300.
Very unlikely that such a scenario occurs, and if it did, Adscendo has mitigation measures in place.
aUSD Liquidation – redeem aUSD for stETH + $ADO as compensation
aUSD Buy Back – when depeg happens
aUSD Safe Bond – use aUSD to buy aUSD safe bond
lstETH Invalidation – disable the redeem function of lstETH.
Tokenomics and Revenue 
$ADO
– native token
– deflationary through dynamic buyback mechanism
$esADO
– governance & utility token
– revenue share, voting power, and more

Revenue
– 0.5% Mint Fee & 1% Redeem Fee
– Service Fee
– a part of stETH APY is distributed to Adscendo Insurance.
– Adscendo Smart Arbitrage Mechanism & aUSD Buy Back will generate revenue for the protocol.
Roadmap
Its a nascent project but I have high hopes for them. They are developing in several heated narratives:
– LSD (closely tracked by KopremesisE)
– Stablecoin
– Leverage
– Structured products (often talked about by 0xYugiAI)
Seed round, IDO Sale
IDO is definitely one that I will be watching closely.
I have some personal allocations for their seed sale that I can share with my newsletter subscribers.
Let me know if this interest you
(NFA or investment advice)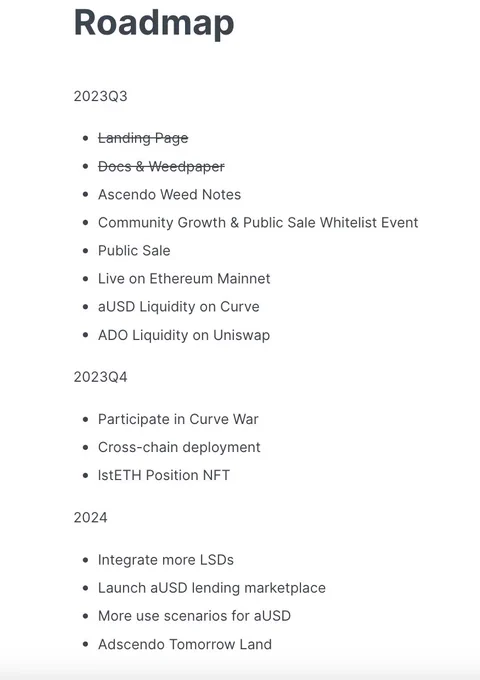 How Adscendo Differentiates
It is not another protocol_fx or Mori_Finance
The similarity I see here is that all eyes will be on what Adscendo is building given the successful track record proven by fx and Mori
Mori_Finance sells out in less than 5mins raising 150 ETH
I am liking Adscendo as it takes this LSD stable-perpetual design one step further.
– aUSD is a true stablecoin without price volatility, so 1 $aUSD = $1.
– All ETH staking yield goes to $aUSD holders, so users can get a leveraged ETH staking yield as ETH price increases.
– For Adscendo 1 lstETH = 1 stETH, it's simple and elegant. And both $aUSD APR and $lstETH leverage ratio changes only when ETH price changes.
Adscendo_fi 's aUSD stablecoin design is more akin to LybraFinanceLSD's eUSD.
Lybra is not without a flawed mechanism
Summary of the differentiating factors amongst the other LSD perpetual products
You will see Adscendo in a different light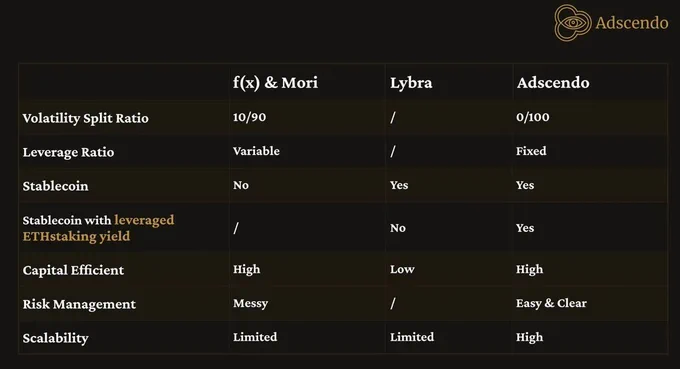 Conclusion 
Adscendo is bringing innovation to the LSD space with its structured products for stablecoin and leverage.
Its aUSD stablecoin design separates it from other LSD protocols like Mori and FX, providing true stability and leveraged staking yields.
Meanwhile, lstETH gives uncomplicated and consistent leveraged exposure to ETH.
Their upcoming IDO presents a unique early investment opportunity.
However, remember to always DYOR before investing in any new crypto project.