Here are 10 projects + Catalyst for a 100x
1/ 🔷 Parallax
parallaxfin aims to be the meta strategy hub with a keen focus on LSDfi products.
The current primary focus is on LSD yield products, including vanilla LSDs, LSD stablecoins, and LSD vaults. That is not all!
2/ I might get killed for this but I will lead the alpha nonetheless. Team is constantly innovating to bring about the best product
• LSD stablecoins strategy
• RWA strategy vaults
• Building a wider ecosystem of products that will accrue value to $PLX token holders.
3/ In 5 days, parallaxfin $PLX is holding an IDO on Spartadex_io .
Sparta first IDO with GameSwift_io sold out in 48 seconds, up 10x
Bullish on the team's commitment to deliver!
• 35% unlocked at TGE
• Initial MC: 450k
Drop me a DM for 🤫 IDO WL!
4/ 🔷 Chainflip
Chainflip is a cross-chain Automated Market Maker (AMM) that allows users to swap native tokens directly across different blockchains.
Basically, its Uniswap V4 + CEX features
• No KYC
• Your wallet, your keys (might not even need wallet)
• Lower slippage
• No intermediaries (using 150 validator instead)
• Decentralized node operators and governance
I am excited for the tech that they have been building for 2 years already, backed by big boys, and they are locked.
$FLIP IDO is on CoinList on the 31 Aug, NFA
Slide into my DMs for priority access to $FLIP CoinList IDO!
Adscendo
Adscendo_fi focuses on giving users yield and leveraged exposure to ETH staking.
Adscendo innovates with LSD perpetuals further with more efficient LSD designs with an efficiently designed LSD stablecoin + LSD perp derivative.
Yielding over 140% APY
Mori_Finance 2nd sale sold out in 35 seconds and I do think that Adscendo_fi will catch good wind.
They are opening a seed round soon and are getting interest, NFA.
Shoot me a DM if you are keen! I did a protocol research for you here
Vaultka
Vaultka official builds supercharged 80% APY strategies around perp DEXes on arbitrum
• LP Optimization (Liquor) Vaultka – optimize through auto-hedging the return of the Perp DEX LP
• Index Investment (Cocktail) – Index yield products
• Stablecoin Lending (Non-alcoholic)
• Insight of Perp DEX Market Trend & News (Bartender) – data drive decision
Team has been building since Dec 2022, with more strategies as more Perp DEXes arise.
$VKA IDO coming in Oct 2023
A one-pager for all you need to know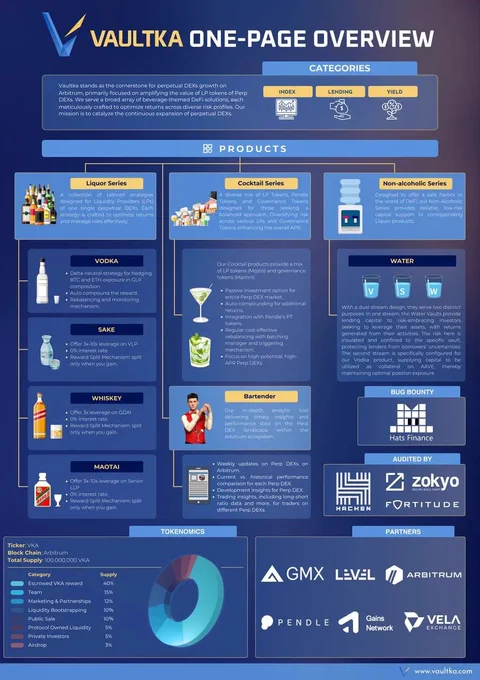 Logarithm
logarithm_fi is creating a new meta called LPDfi, Liquidity Providing Derivatives.
Logarithm earns you "risk-free" yields while preserving your capital in the simplest way.
Nautilus vault strategy will do all the work.