A Topic about $MVX and why you should take a look at this cryptocurrency
The DeFi industry made a huge amount of progress lately.
Especially if you consider the market environment we are in where capital and funding aren't flowing in the market like before.
Another piece of evidence that innovation or progress doesn't stop in the market.
Crypto initially started with features ruled by centralized exchanges.
Trading on the spot, trading with contracts (options, perpetuals,…) all was only available when you signed up to a centralized exchange like Binance.
Then DeFi made its introduction.
Protocols like Uniswap made its introduction to make spot trading available from the comfort of your own wallet without ever handing over control to another party.
For a long while we only saw more and more protocols make this offering but not contract trading.
We can't argue there isn't a market for contract traders who like the idea of using leverage AND trade in both directions in the market.
Meaning you can profit from a move to the downside (going short) or profit from a move to the upside (going long).
ENTER METAVAULT TRADE
A decentralized exchange aiming to become the go-to solution for traders who want to stay in control of their funds at all times without sharing their personal data.
Its innovative design gives it many advantages over other existing DEXes.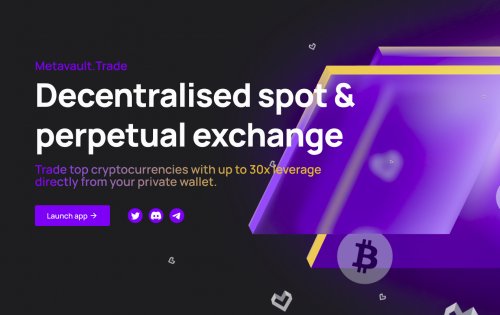 • Traders will be able to spot trade with both normal swaps and limit orders.
• Traders will be able to trade "Perpetual Futures" with up to 30x leverage on short and long positions.
Meaning they can trade in both directions of the market with an ever lasting contract.
The main innovation here is the way the price is set.
The platform aggregates Chainlink and Time-Weighted Average Price (TWAP) pricing from major DEXes and CEXes.
This greatly reduces the risk of liquidation from the temporary wicks you find on some exchanges.
Other advantages are:
• Very low transaction fees
• No price impact (even large orders)
• Liquidation protections
This decentralized exchange also fits into the "real yield" niche.
This means stakers and liquidity providers share in the revenue the platform makes.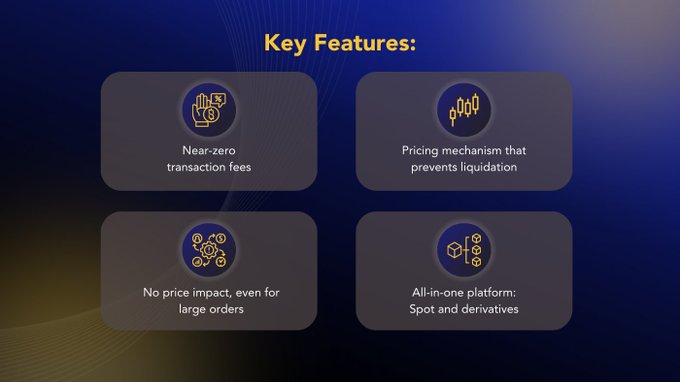 30% of all platform fees goes to $MVX stakers.
70% of all platform fees goes to liquidity providers.
This means that people who participate in either of these share in the succes of the growth of the platform.
Hence the name "real yield".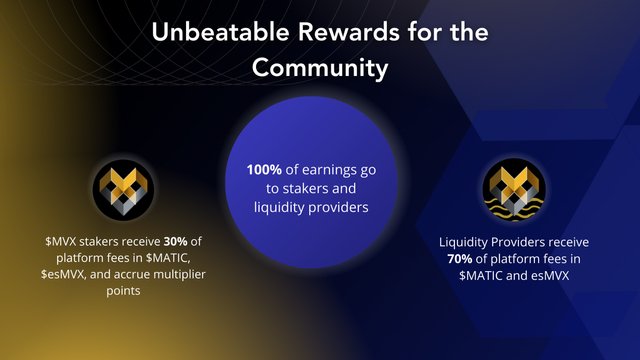 The platform has managed to have a total volume of 153 million dollars at the time or writing.
While this doesn't compete directly with the larger exchange we have to take into account they have only very recently launched their platform and are growing daily.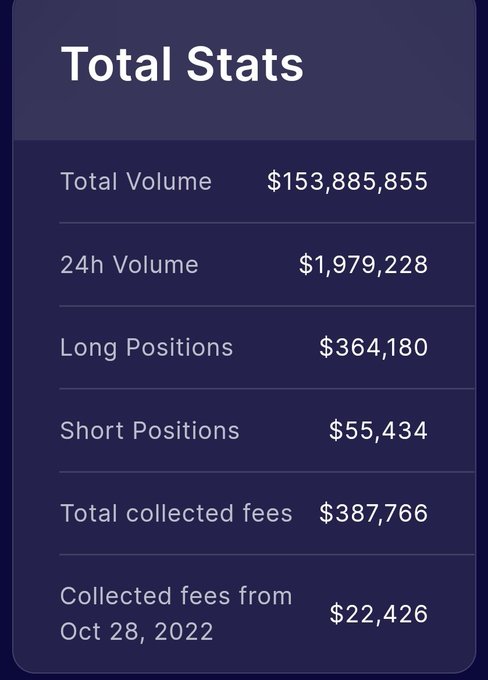 Metavault Trade is built by the team behind Metavault DAO which fuels a whole ecosystem of blockchain and technology projects.
The code is a friendly fork of GMX, which has already been audited by ABDK Consulting.
The token launched with a fair distribution with no private or seed rounds.
Currently the tokenomics as it stands:
Max supply 10m
Onchain supply 4m
Circ. supply 2.2m
CONCLUSION
It's easy to see why most of the decentralized exchanges offering a revenue sharing model are becoming increasingly popular.
Token holders are incentived in numerous ways on top of using a good working product.